Retreat Highlights
Hi Everyone,
Got back yesterday from an amazing artist retreat in new orleans sponsored by air traffic control (atctower.net) and future of music coalition (futureofmusic.org). here are some highlights:
— learning about all the great activist work artists are doing out on the road, from green(er) touring to speaking to congress while in DC to donating a portion of ticket sales to local activist groups. planning some ways i can make a more positive impact…
— feeling relieved that the people at ATC and FOMC are working day in and out to help artists have long-lasting careers (and healthy lives) and connect them to a world of activism.
— putting faces with the people who work so hard to relocate and rebuild the lives and homes of musicians who were forced to leave after Katrina — thank you sweethomeneworleans.org.
— meeting with a chief of a mardi gras indian tribe who works 4-hours a day hand-sewing beads onto incredibly ornate, elaborate and beautiful costumes (en.wikipedia.org/wiki/Mardi_Gras_Indians).
— touring the 9th ward and meeting musicians who have come back after the storm. seeing the slow rebuilding of what was complete devastation. also realizing how far we have to go…
— seeing the markings that the national guard spray painted on houses while searching for the dead by boat after the storm.– eating, talking and listening to kickass bands at dba, ernie k-doe's mother-in-law's, and dooky chase's restaurant.– getting time to hang out with and get to know so many amazing musicians/artists…everyone was really open and sweet. it felt like summer camp.
— highlights from the benefit show at tipitina's: singing in spanish and playing guitar with martin perna from antibalas, playing guitar (and reading an unfamiliar chart) with vijay iyer, watching erin mckeown play badass lead guitar, being backed up on "galaxies" by a 13-piece band including 4 trombones, a clarinet and a flute!!!
— absorbing the reality that new orleans is the cultural center of music in the US and that i owe so much to the people who live (and have lived) there… so many characters and eccentrics everywhere, so much suffering and also so much joy — it's awesome in the true sense of the word…
thank you to everyone for such an eye-opening and wonderful trip!!!
xo laura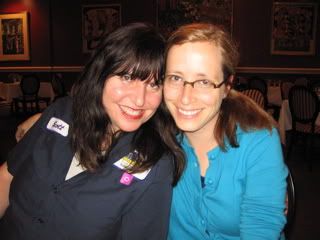 badass union organizer mary winzig and me

luke reynolds, jolie holland, saul williams and erin mckeown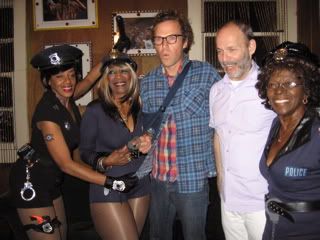 luke reynolds and wayne kramer (MC5) getting 'busted' backstage

scott mccaughey (young fresh fellows, minus 5, R.E.M.) and steve berlin (los lobos) jamming with bonerama